The essential element of this is the nature of inquiry that infuses each of these standards with an ongoing scholarly rigour in pursuit of educational excellence. We can, therefore, parse out in the following paragraphs the scope and sequence of inquiry through the six standards we saw in earlier in this book that can help us to see how clearly how a school community might best function and whether or not that 'secret sauce' of high performance is working its magic.
Resilience of consensus around ethos: We agree on what matters to us. We reinforce the resilience of the consensus about shared values, intentions and principles that enable the community to withstand the challenges of conflicting goals and hidden assumptions about educational design and delivery. Without resilient consensus, the community may be constantly challenged by conflicting goals and hidden assumptions.
Is there evidence of strong, positive leadership, empowering governance, and supportive executive and operational structures and systems that will help the school develop and implement a shared articulation and understanding of its goals through a framework for character education?

Is the school prepared to adopt an agreed approach to the development of valid measures of character education?

How effectively is the school engaging its stakeholders in building consensus around the aims and practices of character education?
Effective and engaging communication and reporting: We talk about and report on our work effectively. We ensure desired school culture and strategy are aligned and translated into daily operations and community engagement through effective communication and reporting. We need to ensure operations of character education are communicated and translated into the daily teaching and learning.
How successful is the school in preparing for the planning, organisation and consistent delivery of character education within the learning programs of the school?

How effective is the school at identifying and articulating in a more explicit fashion the application of character to the achievement and development of the students?

How well is the school engaging with the wider community as to the intentions, nature and implementation of its approach to character education?
Robustness and consistency of standards: We define and improve our standards. We strengthen the robustness and consistency of school standards by setting expectations, providing support, monitoring progress, recognising success, and encouraging accountability.
Does the school understand where it has areas of success in character education and how these might be cultivated for further growth?

Does the school recognise where there are domains in character education that require further attention and the strategies required to attain improved outcomes in these areas?

Are there processes in place to assist with rigorous and routine monitoring and evaluation of the implementation of the school's expectations for character education?
Tangible outcomes for students and programs: We achieve those outcomes that people expect of us. We establish and achieve both process and product outcomes for students and programs that are appropriate to both the context of the learning environment and the deliberate and targeted focus of learning, particularly in the areas of student care and character, learning culture across the curriculum and co-curriculum, student leadership culture, design and delivery of student programs and pathways, the promotion of student voice, diversity, and identity, and innovation and future readiness.
Outcomes for students: We establish outcomes appropriate to the situation and to the focus for learning.
Does the school have a clear set of graduate outcomes that is driving its philosophy and practices of character education?

How effectively is the school tracking, assessing and reporting out on the character development of its students?

How well does the school draw on, appreciate and celebrate a diverse range of character education narratives from its student and alumni population?
Outcomes for programs: Academic and other departments must assert the importance of character education in the curriculum and pedagogy.
To what extent is the school integrating character education within all fields of learning and systems for care and support of students?

Is there a whole-school total pedagogy of character education that unifies practice in this area?

How successful are those specific programs and initiatives that the school is using to highlight its objectives for character education?
Strategic clarity and connection: We are clear about our vision and what we do is aligned with this vision. We reinforce strategic clarity and connection in school activity by promoting intentional, aspirational and practical values that provide concrete direction for the school.
Is character education aligned with the nature of the stated values, educational philosophy and desired outcomes for both the school and its students?

Do staff clearly communicate and model the core stated values of the school in the work of character education?

Do students clearly communicate and model the core stated values of the school in the practice of character education, especially in the interactions of older students with younger students?
Focused and committed community of inquiry and practice: We recognise that character education is an explicit domain of professional practice and can take place in formal curriculum as well as informally in activities. We are working together to improve what we do in character education, especially for our students. We prioritise the establishment and continuous refinement of processes, systems and structures that nurture a school-wide community of practice that unlocks defensive default positions and supports individual and collective improvement in formal and informal learning culture and practice.
Do faculties and other staff teams understand how to approach the incorporation of student outcomes related to character appropriately into their learning experiences?

How successful is the school in helping staff to align the practices of character education with the school's strategic intentions for the development of the students?

To what extent does the strategic implementation of character education include a deliberate and incrementally staged process to build the capacity of the teaching staff to adopt a contemporary approach to promoting learning in this area?
Progress in each of these standards can be individually measured according to the consistency and quality of delivery. School stakeholders should bring additional rigour to this process. They should be invited to rate and comment on these areas, which can help to gain data on which to base judgments about the nature of the educational experience and its contributing factors within the six corridors.
Altogether, however, a global and summative judgment should also be made to assist a school to concentrate its attention most keenly on doing those things that really count towards growing its organisational maturity as a fit for purpose 21C community of practice in character education. To do this, we need first to think about and assess a school's overall capacity in character education by tracking its trajectories of student learning experience. At the same time, we must focus keenly on the graduate outcomes and the character and competencies of the students that they exhibit in keeping with these outcomes. Thirdly, we need to reflect on the whole education through which the potential of students to achieve these outcomes is optimised.
This whole education should be personalised to the needs of individual learners and shaped with a deep understanding of the requirements of our society for graduates who will flourish in the world of tomorrow. This whole education should be driven by the knowledge engine of a community of inquiry and practice. This community should be moving its faculty away from the habits of teacher sole practice within siloed departments and activities that pursue what they perceive is in the best interest of the students without necessary regard for the strategic direction of the school. They should encourage collective inquiry and aligned activity that helps to realise the school's educational purpose and associated strategy. It should also share in and model an agreed growth mindset that sharpens the consistency and quality of what it does through the rigour of transparent, collaborative, evidence-based practice. With these qualities in place, it might begin to see itself as a mature learning organisation capable of high performance in improving outcomes for more learners.
To calibrate the judgment of the consistency and quality of this organisational maturity and high performance, we can use a conceptual model that mirrors that which we used earlier in this book to consider the development of character in individual students. In that instance, we used the underlying assumption that schools aspired towards a culture of servant leadership in which students placed the interests of others before themselves in contributing to and leading their communities. In other words, children grow into their mature adulthood when they put aside a primary interest in serving themselves in pursuit of service of the needs of others. Likewise, great schools serve their communities.
The maturity of the school's capacity to articulate and achieve its strategic intentions for an education for 21C character and competency within its deliberate, targeted and intentional models and educational frameworks can therefore be tracked along a continuum that examines the progress of its learning culture from individual practice to strategic alignment to being fit for purpose in serving the society in which it operates: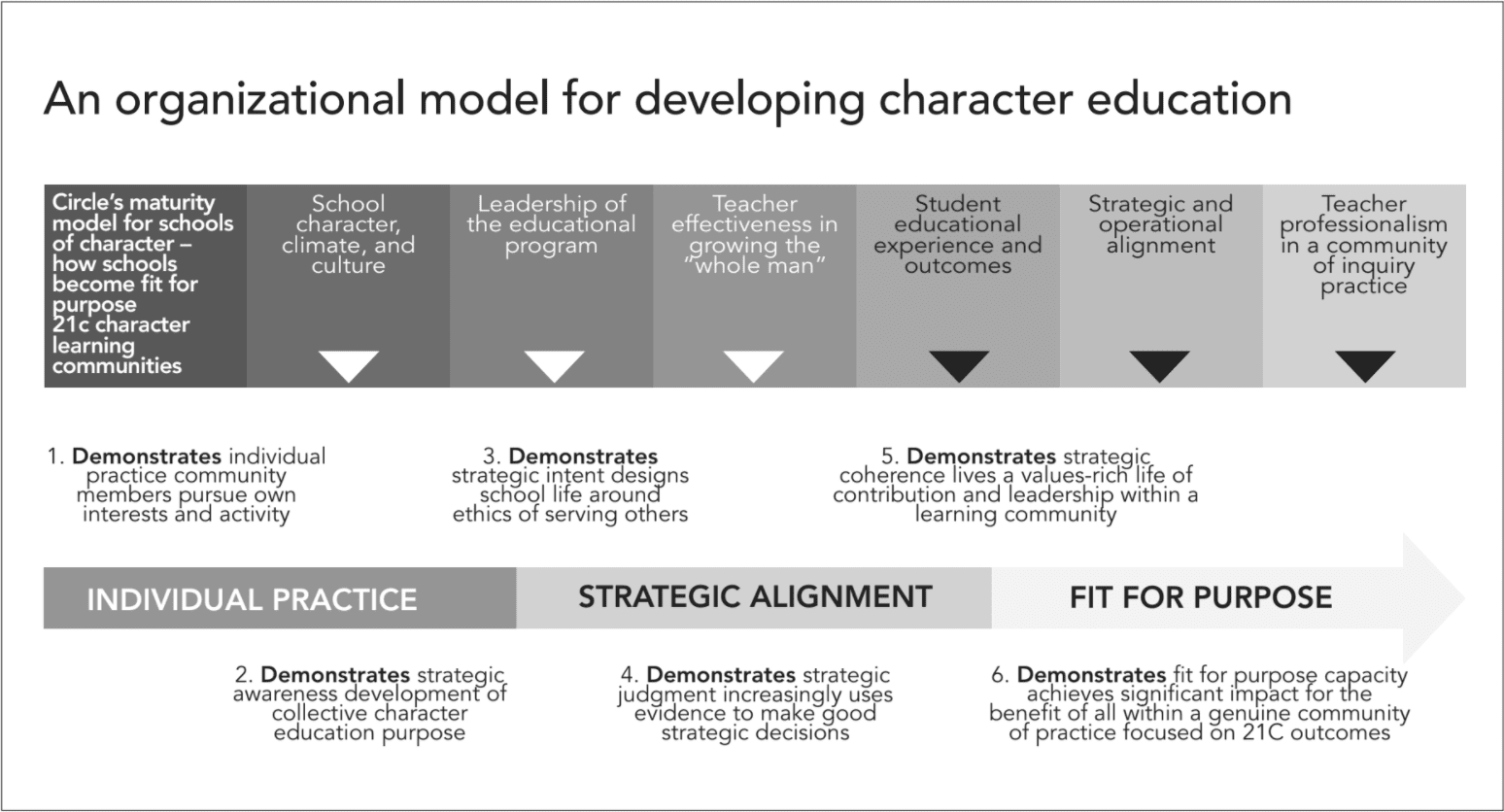 Measuring the Organisational Maturity of Schools of Character: From Individual Practice to Strategic Alignment to Fit for Purpose